#YODOCONTEST
Grand River Film Festival is thrilled to partner once again and announce the the launch of the fourth annual Hospice of Waterloo Region short film competition!
This short film contest calls on filmmakers and storytellers to focus on death as a part of living. We want you to use your artistic expression to create a film of 5 minutes (excluding credits) in length that explores and educates others about the personal journeys through death, dying and bereavement in an authentically unique way that has a positive influence on the community.
You Only Die Once
#YODOContest is about living well until you die. This phrase reminds us that life matters right until the end and that how we live to the end does matter. While death is a natural part of life, many people distance themselves from the topic of death, which has created a death-denying culture. This "death denial" causes us to avoid the subject, leaving us unprepared to support our family, friends, neighbours and community to live well until the end of life. Hospice Waterloo Region believes that living well until we die begins by challenging our "death denial" and igniting conversations about death, dying and bereavement.
New for 2024
• We have extended the length of video submissions to a maximum of 5 minutes (from 3 minutes in previous years).
• For the first time, documentary-style films will be accepted.
• And this year we are expanding outside of Waterloo Region! We welcome filmmakers and storytellers in the Region of Wellington to also submit their proposals.
There are six parts to the film competition:
2023/2024 Contest Launch – Monday September 18 th , 2023
Proposal submission: Friday October 27 th by 11:59pm EST
Approved Proposals: November 17 th , 2023
Film Development: November 17, 2023– February 29, 2024
Final Films Submitted – Deadline February 29 th , 2024 by 11:59pm EST
Winners announced March 27, 2024
Winning films will be screened at the GRFF Film Festival in May 2024!
Eligibility
This film competition is open to amateur and professional filmmakers and storytellers, aged 20 years and older, that currently reside within the Region of Waterloo or the Region of Wellington.
Proposal Submissions
In the proposal form, we will be looking for a theme/focus, and a short synopsis of the story you plan to tell. The proposal submission form must be completed by October 27th, 2023 by 11:59pm EST. All submissions will be reviewed by a panel of community stakeholders. Each submission will be judged on its alignment with HWR's vision of supporting people to live until they die. More specifically, the films' originality, creativity and ability to inspire conversation through a story focusing on personal journeys through death, dying and bereavement in this community. After a submission is approved (Nov. 17/23) the filmmaker will receive a copy of the matrix that will be used to determine the #YODOContest winning films to better guide them through their filmmaking process.
Please note: It is the intent of Hospice Waterloo Region to use these short films for community outreach, education, and marketing purposes.
The Winners
There is a prize of $650 for 1st place and $350 for 2nd place. There may also be one honourable mention chosen from the final submissions. The winners will be announced by Hospice Waterloo Region on March 27, 2024 and will be showcased as part of the Grand River Film Festival. As part of the festival promotion, winners will received two free admission tickets to the festival. They will also be highlighted and invited to participate in the GRFF podcast and any other events leading up to the festival. The first-place winning filmmaker will be invited to judge the #YODOContest film contest next year!
Additional Criteria
To be eligible for first or second place, the following criteria must be met:
Limit one film per submission
You must currently reside in the Region of Waterloo or the Region of Wellington
The length of your film must be no more than a maximum of 5 minutes (excluding credits).
It can be filmed in vertical or horizontal orientation
No pixel quality lower than 1080P (1920×1080 px; also known as the Full HD or FHD, 2K, and BT.709)
Your film must be completely original work. All music, images, or sounds must be property cited and referenced in final credits of the film. You will be permitted to include some stock photos/images however 60% of photos and images must be original.
Your film must tell a story, real or imagined, defined as a "a spoken or written account of connected events, a story." Documentary style will be accepted.
You must include an acknowledgement to Hospice Waterloo Region and the 2023 You Only Die Once: #YODOContest in the credits at the end of your short film.
You will be asked to sign a consent agreeing to the following:

the use of photos and interviews as part of our contest promotion
HWR to have exclusive use of your submitted film, for a period of one year,  in the work of palliative care engagement and education in Waterloo Region.
That the film submitted by you may be used by HWR for advertising, marketing, and /or educational purposes in any relevant programming in perpetuity.

YouTube:

You will not publicly upload your films to YouTube until after the Grand River Film Festival (May 2024), or share it publicly in any way; the screening at GRFF will serve as a premiere
Following the Grand River Film Festival, the winning films will be uploaded to HWR's YouTube account so that we may share the films in advertising, marketing and/or in educational settings.
Should the winning filmmakers wish to upload the film to their own YouTube channel, we ask that they provide us with a version of the film for our upload that includes an HWR logo watermark so as to avoid YouTube copyright issues.
By submitting your film to the #YODOContest, you are also agreeing:
To engage with HWR throughout the filmmaking process by participating in short interviews to showcase your story and the inspirations behind the film. You agree that these interviews may be shared with the public through HWR social media platforms as part of our contest promotion.
Winners may also be asked to participate in GRFF interviews/industry events/post-screening Q&As to talk about their filmmaking journey and their #YODOContest submission.
Winning films will have their debut screening at the GRFF in May 2024. Filmmakers are welcome to submit their films to other film festivals, however these screenings must come after their GRFF debut.
For additional questions, definitions, the Hospice's mission, and to contact them, please visit the contest FAQ webpage.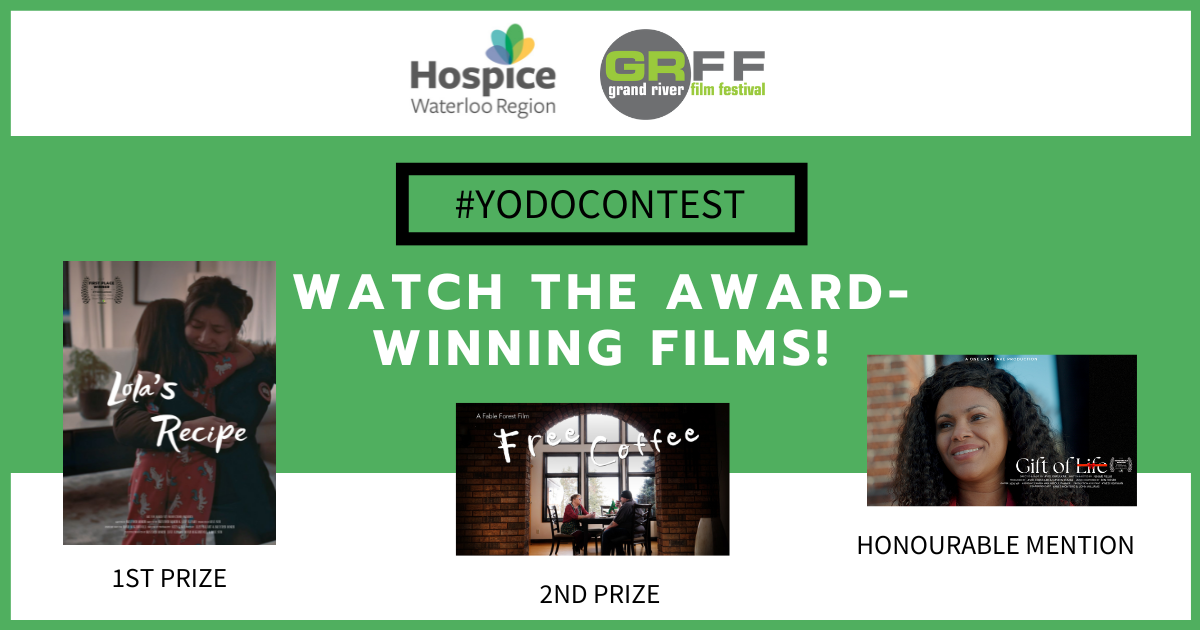 We are proud to announce the 2023 winners. Congratulations to:
1st: Lola's Recipe by Brayden Morin and team; Are You Bored Yet Productions
2nd: Free Coffee by Jason Green; Fable Forest Films
Hon. Mention: Gift of Life by Aviel Kurulkar; A One Last Take Production